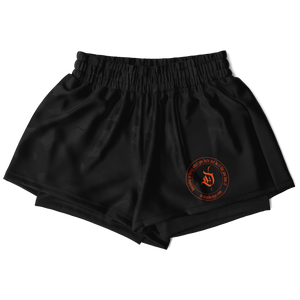 THE DISCIPLINE 2 IN 1 WOMANS SHORTS
Sale price Price $42.50 Regular price Unit price / per
Tackle your goals head on with these 2-in1 shorts that are designed for you to be your best self. With breathable mesh fabric over-shorts for maximum comfort, and a base layer under-short.
This subtle but affective "camo" style design doubled with our blood orange details are sure to keep you motivated and disciplined when you need to hit the gym or just persevere through every day life.  With our hi-def sublimation printing process our cut and sew range ensures a flawless graphic which will never peel or fade. 
• Outer short: 100% polyester mesh
• Inner short: 82% polyester, 18% spandex
• 2-in-1 design
• High definition printing colours
• Design will never peel, flake or crack

Our products are made to order using a high quality printing process called sublimation which does NOT fade, peel or crack even after multiple washes.  Our garments are printed then cut and sewn once your order is placed to ensure a flawless graphic which requires a production time of 2-7 days. Your order is then packaged and shipped and on your doorstep within 6-15 business days.  Shipping time varies depending on your location in the world. See below for more specific delivery times.
NOTE:
If your order consists of more than one item you may receive more than one package on delivery.  Our products are made to order out of multiple facilities and that may result in multiple packages.
Our products take 2-7 business days to create because each item is printed, cut and sewn, we then allow shipping times on top of that. The production and shipping speed depends on the product type and destination.
In the table below you can see the shipping estimates per country/region.
USA: 6-9 Business Days
UK: 6-9 Business Days
Europe: 4-15 Business Days
Canada: 7-10 Business Days
Australia: 5-10 Business Days
Rest of the World: 7-17 Business Days
USA Remote: 13-16 Business Days
| Inch | XS | S | M | L | XL | 2XL | 3XL |
| --- | --- | --- | --- | --- | --- | --- | --- |
| 1/2 Waist | 13 | 13¾ | 14½ | 15¼ | 16 | 16¾ | 17½ |
| 1/2 Hips | 18½ | 19½ | 20½ | 21½ | 22½ | 23½ | 24½ |
| Inseam | 2 | 2 | 2 | 2 | 2 | 2¼ | 2¼ |
| Total Length | 11¼ | 12 | 12¾ | 13½ | 14¼ | 15¼ | 16 |
| Centimeter | XS | S | M | L | XL | 2XL | 3XL |
| --- | --- | --- | --- | --- | --- | --- | --- |
| 1/2 Waist | 33 | 34.9 | 36.8 | 38.7 | 40.6 | 42.5 | 44.4 |
| 1/2 Hips | 47 | 49.5 | 52 | 54.6 | 57.1 | 59.7 | 62.2 |
| Inseam | 5 | 5 | 5 | 5 | 5 | 5.7 | 5.7 |
| Total Length | 28.5 | 30.5 | 32.4 | 34.3 | 36.2 | 38.7 | 40.6 |